Report: "British Rare Breeds on Parade!" 2003
Events and photo links
Big Barn ALBC Exhibit

The Big Barn exhibit ran all day on Friday, Saturday and Sunday, 20-22 June 2003.

Visitors were able to explore live breed displays and information tables, and talk with breeders, rare breed conservationists and clinicians, judges and historians. The exhibitors were wonderfully helpful and many new friends were made for the breeds on display.

Above: Executive Director Chuck Bassett and the ALBC exhibit.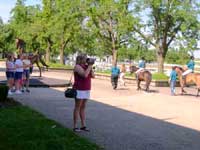 ---
Saturday and Sunday
Parade Through the Park
Visitors experienced the beauty of the Rare British Breeds as they paraded through the grounds of the scenic Kentucky Horse Park.
Live equines beat statues any day!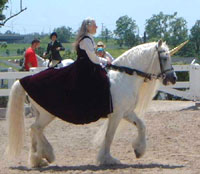 ---
Breed demonstrations: Breeds Barn Arena
Each breed had approximately 5 minutes in which to present its own special qualities.
These displays with music and commentary were very popular with the audience.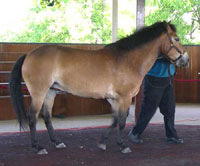 ---
Each topic took approximately one hour followed by audience opportunity for questions. The evening clinics were enlivened by equine models: Sarah Selby's mare in particular (Exmoor, left) was very vocal indeed!