Sue Millard, Cumbria, UK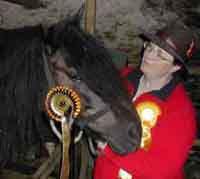 'Sue Millard was allowed to "stand up close to a horse" at the age of two and a half and has not been reliably sane since ... ' ("One Fell Swoop", 1987.)
Around the same age she began to draw, and has continued to exercise her creative talents in visual, musical and written forms, in between taking an Honours degree in Education, getting married and raising two children. She is now a Lecturer (MSc) in Multimedia Computing at Cumbria Campus of the University of Central Lancashire, UK, but her passion for British native horses and ponies has not diminished.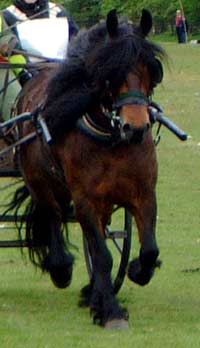 For 15 years the family lived on "a very small farm at the end of the world", with Sue handling a complement of Limousin x and Hereford x beef cattle, Herdwick, Rough Fell and Swaledale sheep, and a healthy overdraft. She also made driving-harness: from design and prototype to making up into a set of light, kind-to-the-horse harness, made-to-measure for horses or ponies for competition in carriage driving events. Sue competed at local driving events with two Fells, a Welsh Cob and a Fell X Arab whom she broke and trained herself.
Sue's older Fell gelding "Mr T" now has a bay girlfriend, "Ruby" (see left), who took to driving in a remarkably short space of time and has both charisma and talent.
Credentials
Worked with commercial stable of Fell, Highland and Welsh ponies, and Icelandic Horses, from 1972 to 1976
Native pony owner since 1983
Sue has served at different times as Secretary and Treasurer of the North West Driving Club (carriage driving in Northern England) and is currently its Webmaster
A panel judge for the Fell Pony Society since 1992, Sue has also judged Large and Small native ponies, a variety of mixed breeds and part breds, "best foot", heavy horse driving turnouts, and private carriage driving turnouts.
Currently serving on the Fell Pony Society Council and as Chairman of its Overseas Sub-Committee
Author & illustrator:
"One Fell Swoop" a cartoon background and history of the Fell breed (1987)
"Against the Odds" a teen-adult novel based in a steeplechasing stable (1995)
Illustrator/muralist for the Fell Pony and Countryside Museums, Dalemain, Penrith, Cumbria (1982-3); for Clive Richardson's "Driving - The Development and Use of Horse-drawn Vehicles" (1985) and sections of his "Driving - an Instructional Guide to Singles and Pairs" (1993)
Currently Webmaster/researcher for the Fell Pony and Countryside Museums
Contributor to equestrian magazines such as "Carriage Driving", "Going Native", "Native Pony"
Return to: British Rare Breeds on Parade! | Schedule of Events | Clinicians and Topics | Show