Clive Richardson, Cumbria, UK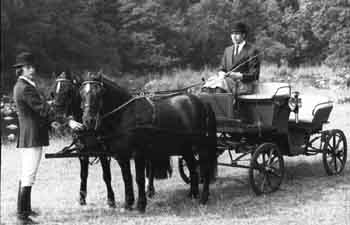 Clive Richardson has competed in a wide range of equestrian disciplines in the United Kingdom, America and on the European continent including show jumping, driving trials, working hunter classes, native ponies, hacks and Arabs, cross country, and showing. He has also hunted with a number of mounted packs in both Britain and France. He has broken and trained horses and ponies both for riding and harness work.
Clive has lectured extensively on the subjects of native ponies, the evolution of British horse breeds, the development of horse-drawn vehicles and other equestrian-related subjects. He has given radio broadcasts on similar themes, and worked as a consultant for Scottish Television on a series about working horses. He has also conducted instructional clinics on both sides of the Atlantic on showing native ponies, carriage driving and dealing with problem horses.
A successful native pony owner and breeder, Clive has also bred and exhibited rare breed sheep for around 25 years. His Jacob flock has produced champion animals at most of the UK's major shows. He is a council member of the Jacob Sheep Society, edits its magazine, "The Jacob Journal", and judges sheep throughout the UK. He is also interested in rare breed poultry.
Credentials
Clive is on the judges' panels of the British Show Pony Society, National Pony Society , New Forest Pony Society, Fell Pony Society and Coloured Horse and Pony Society.
He has judged every major show in the United Kingdom and has officiated in several European countries as well as in Canada and the USA. He has judged virtually all types of horses and ponies in-hand, under saddle, in harness and in Working Hunter classes including riding ponies, Arabs, show hunters, native ponies, coloured horses, heavy horses and cobs.
He has served as: Secretary/Treasurer, Fell Pony Society; President of the West Lakes Driving Club; Secretary/Treasurer, North West Driving Club (carriage driving in Northern England); Assistant British Driving Society area commissioner for the Northern Counties.
Publications
"Photographic Guide to Showing Native Ponies", Robert Hale
"The Horsebreakers", Robert Hale
"Driving - The Development and Use of Horsedrawn Vehicles", 1985, Batsford
"Driving - an Instructional Guide to Singles and Pairs", 1993, Batsford
"The Fell Pony", 1981, Dalesman Publications
"The Fell Pony" 1990, J A Allen Breed series
"A Photographic Guide to the Fell Pony", J A Allen Breed series
"The Hackney", 1995, J A Allen Breed series
over 150 articles for equestrian and rural life magazines such as "Carriage Driving", "Going Native", "Native Pony"