Mr T and Ruby - the Fell ponies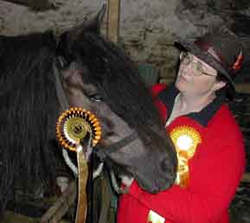 I am a black Fell pony, 13.1 hands high. I have small patches of white on one hind foot, and two small stars on my forehead. My mane and tail are very long. In summer I turn brown. Apparently this is something humans like to do too, but most of the ones I know are sort of pink most of the time.
I was born in 1987 (old enough to vote now, they tell me) and I enjoy grass, oats, Polo mints, cauliflower leaves, and any food with molasses in it! I am good at carriage driving and dressage, and I like going to country shows. I don't like motor bikes. Their snarly noises frighten me.
The trouble with all this picture posing is that I have to look clean and put my ears forward and not shake my forelock all over my face. Even my new Mum, Jackie, agrees I am a dedicated scruffbag.
Oh yes, the rosettes...... they are from the Queen's Golden Jubilee celebrations in 2002: I am wearing the British Driving Society rosette and "her with the pearly hat" (they're raindrops really) is wearing the Fell Pony Society's version.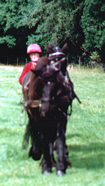 Here I am with my friend and cousin Glen. We are supposed to be playing tandems. Glen is older than me but he gets bored easily.
First of all we try him as the leader, but he wants to play pairs... He keeps shuffling back to walk beside me and that really isn't much fun.
So his Mum and my Mum swap us round and then he is happy to follow in line (I'm the sensible one anyway - I should be in front!).
Once we've got the idea into Glen's limited brain, we try the carriage - first without the traces hitched, then when everyone knows we're safe, with everything fastened correctly. At a walk (my favourite pace).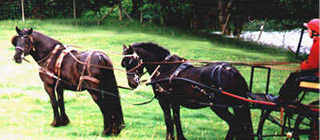 By the way we are not being driven completely alone... there are three other people in the field in case anything goes wrong - and one them has got a long lead rope on me - as if I would do anything naughty! Then Mum has to get ambitious and start us trotting. She says it's easier because when we're trotting we keep our heads still. Excuses. WE are the ones doing the hard work!
Of course, we know we are goodlooking 'cos we both used to be stallions. Didn't we do well?
Here I am at the 2003 Stallion Show - I have a lot to prove among the "real men" and it's very exciting. I am just dying to get in that ring and show them how brilliant I am.
There's something in the air - or could it just be rain? Is that why steam is coming out of my ears?
Maybe not...... Seems like I have forgotten something important that everyone else here has got - but what the heck!
I have sneaked a canter stride or two when the judge was not looking and after we get our rosette I shall buck with delight. (Trust me not to spoil it till after the judging, I do have more sense!)
Well, this year (2004) I have been WELL pushed into the background.
Ma has bought another pony! A big red bay thing - pretty enough I suppose. I soon had HER where I wanted her. She was educated by my old mate Boxer (a.k.a. Tebay Vespa) so she knew that when I said Stand Back, I meant it. I don't have to bite her too often. She's pretty good at making sure our paddock is nicely muddied up so we can get REALLY dirty when we roll.
Oh by the way, she is supposed to be a Fell too, and Ma calls her Ruby, but her passport says "Coppyhill Suzanne". So I'm told. I have my suspicions that she is really a Cleveland Bay on the run.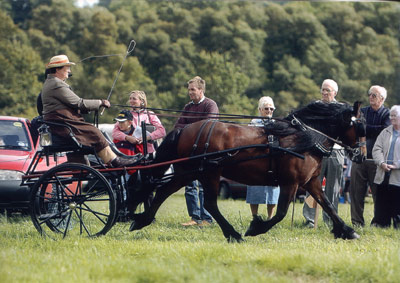 This is how she looks when she's clean. I will pass over her enthusiasm for extended trot in a dignified silence. Since she came back from Dufton Show she has done nothing but brag about her Champion's rosette, and try to impersonate Jonah Lomu if I get in her way.
I will just mention that when *I* went to Dufton show for the first time, I galloped through the cones course CLEAN. Ruby hit two. I don't think she has got the hang of the game. Cone driving is not rugby. Sniff.
Now this is something I heartily approve of: Ruby taking over my work and doing all that fast stuff across country and through hazards.
Apparently she enjoyed her first event so much, she wanted to go round again when she'd finished the course. Silly woman. When SHE's old enough to vote she'll realise it isn't worth it.
She's been to another show or two this year (2006). Disgraced herself at the Driving Club Show I hear... reluctantly placed last for being naughty although the judge said he would have made her his champion if she'd been well behaved. See, "flash" isn't everything, nyer!