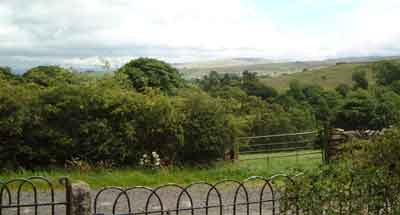 Greenholme's Past
Daw Bank, on the Galloway Gate in Greenholme, offers self catering accommodation for walkers, steam enthusiasts, horse riders and writers to explore the quiet lanes of Westmorland.
But it wasn't always so quiet...
Lambert gives some interesting insights into Greenholme's past in "Transect Through Time" (1996). In a very full chapter, we read that Greenholme and Roundthwaite were on the old "Galloway Gate" droving and pack road which ran from the Scottish border down into southern England.
Both these small villages were eventually bypassed, first by the building of good quality turnpike roads (maintained by tolls on traffic), then by the London-Glasgow main line railway and finally by the M6 motorway. In their time Greenholme and Roundthwaite were centres of service to the drovers and packhorse men. Both villages had an alehouse where a man could get a drink and a meal while travelling. At the larger inns he could bed down for the night, his packs could be stored under cover, and his ponies turned out into a "close", a garth near to the house. Drovers too would need to turn their cattle into "folds" for the night.
The alehouses of both Greenholme and Roundthwaite were known to be used by highwaymen. William Smorthwaite - possibly a phonetic way of writing a local pronunciation of Smallthwaite - "worked" the main road and the Galloway Gate iwith his gang. He was hanged in chains at Gibbet Hill south of Carlingill in Tebay in 1684.
Today this stretch of country is perhaps best known for Fell ponies and for its views of the Steam Specials powering up the long drag over Shap Fell on that main West Coast railway line. It's also been argued over by the protagonists in the wind energy debate....
Who knows what lies around the next corner in history!
Following a trial run at Shap last month "Galloway Gate" will run on 13th and 14th July in Show Case, Devonshire Arcade, Penrith, between 11am and 2pm each day. It's a video of poetry readings with photographs of the drove road that runs through east Cumbria from Galloway in SW Scotland towards the industrial towns of Lancashire. Buy a soup from the soup shop and take in 30 minutes of poetry for lunch!